Nacon and developer crea-ture Studios have confirmed that their skateboarding game Session Will have a release on PC, Xbox One, PS4, Xbox Series X | S and PlayStation 5 when completed -an has no approximate date for his departure-. It is currently available in Early Access for Steam and Xbox Game Preview for Xbox One, so players already know what it offers; in our comparison between the two newcomers to the genre, Session Y Skater XL, we conclude that there is not one clearly better than the other, but two simulators with a different approach, although Session it is – in its present state – a little more complete and profound. We show you his new trailer.
Session is inspired by the "golden age of skateboarding", its culture and the creativity of the skaters. Skate video games had a great time in the late 90s and early 2000s with the saga Tony Hawk and others that were added a bit later, such as EA's Skate, only to lose their popularity later. This is changing in recent years with titles like Tony Hawk's Pro Skater 1 + 2, OlliOlli, Skate City, the aforementioned Session Y Skater XL and even the new Skate 4 for which Electronic Arts has created a new studio, Full Circle.
A simulator that requires precision for even the most basic tricks
In the case of Session, its creators highlight its control through the two sticks it offers a more precise and "realistic" control of our skate, so that to do the most common tricks of this sport you need to move each foot as you would on the board. "Grinds, for their part, require placing our feet in the position of the trick we want to perform. To give you an idea, if we jump over a rail or curb without moving any stick, the game interprets that we have weak legs and we We will fall ", we count in the impressions. It also includes a Legacy control system inspired by the controls of the Skate.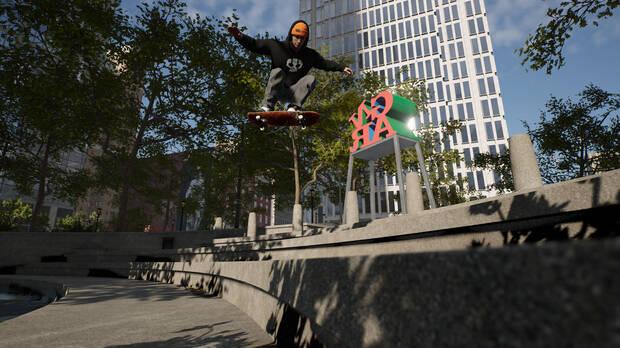 This peculiar control has advantages and disadvantages. For beginners it can be very demanding, but in return it makes the game more realistic and deep, where each kickflip, grind and ollie must be done with effort.