PlayStation Spain has confirmed today that PS4 and PS5 players will be able to enjoy the Days of Play 2021 offers from May 26 to June 9. During this promotional period, not only will video games for both consoles be discounted, but there will also be discounts on subscriptions to services such as PS Plus and PS Now, as well as on other products from the PS Store and selected items from the PS Gear Store at 20%. of its usual price.
As for the discounted games that can be purchased during the Days of Play 2021, the company has confirmed the following highlighted offers:
In addition to these games, there will also be discounts on a selection of games built into the coleccin PlayStation Hits with essential classics like The Last of Us Remasterizado, God of War, Ratchet & Clank Y Gran Turismo Sport for PS4, backward compatible on PS5. At the moment, yes, as you can see, the prices that all these discounted games will have have not been specified. More information on this will follow soon.
Free PS Plus Weekend and PlayStation Player Celebration
To celebrate the arrival of Days of Play 2021, the company will organize a PS Plus online multiplayer free weekend. This offer will be activated on PS4 and PS5 on May 22 at 00:00 a.m. and will be available until Sunday, May 23 at 11:59 p.m., both local hours.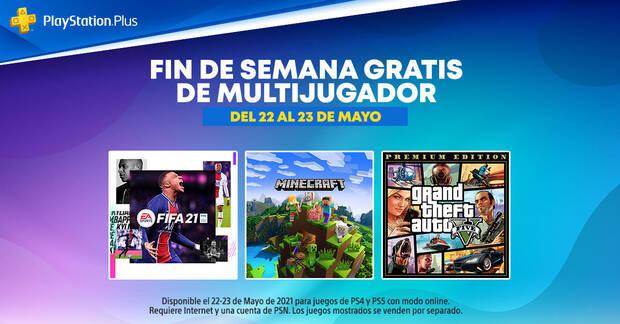 It should be remembered that today the PlayStation Player Celebration, an event framed in the Days of Play 2021 in which users can register (here until May 31) to get exclusive themes and avatars for PS4 and PS5 by overcoming challenges and game challenges, trophies and other extra objectives.