The arcade racing game Cruis'n Blast prepares to reach the finish line: the Nintendo Switch platform, where it will debut the next September 14 in Spain and around the world, both in physical and digital format. This was announced by publisher GameMill Entertainment and developer Raw Thrills, while sharing a new trailer for the game and details of the features it offers. For example, the title offers games for up to four players. It will also be available in Spanish.
Cruis'n Blast bet on racing in the purest arcade style
Players who dive into Cruis'n Blast they will get behind the wheel of a game that bets on the high speed and that, thanks to the versatility of the Nintendo Switch, we can play anywhere. Set includes 30 tracks loaded with color that will take us through different themes: we find day and night circuits, such as Twister Terror, Wild Safari, Carnival Joyride, Night Riders or Canyon Chase. It seems that each of these scenarios has its own characteristics and challenges.
In turn, users will be able to get behind the wheel of 23 custom vehiclesranging from licensed supercars to monster trucks "and unicorns", for a reason: we can all decorate them to our liking, and add new improvements to them. Whatever our choice, it will help us to go through the different maps and participate in the races, while collecting secret objects and money.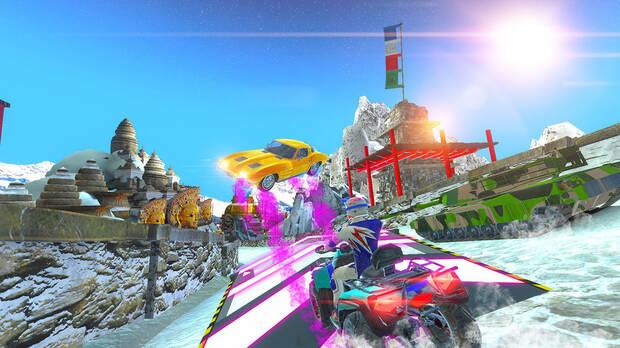 30 tracks, 23 customizable vehicles and multiplayer races
In addition to the Arcade Mode, we also find the competitive mode; while up to four players can race together in Cruis'n Blast. "So choose your favorite vehicle and hit the road!", The developers invite us. In the trailer you can take a look at all these features in action, while on the Nintendo page you can find more details.
We remind you that Cruis'n Blast It will be available next September 14 on Nintendo Switch, both in physical and digital format. Below these lines we leave you with its gallery of images: