Almost all films carry special effects, whether they are practical (those made during filming) or digital (those generated by computer that are added to the shot material). Adrin Pueyo I studied Industrial Electronic Engineering and Automation and then I studied the Master that at that time was in Creation of VFX Visual Effects in Movies, TV and Commercials from the University Center of Technology and Digital Art (U-tad) in 2013. has worked for some of the most recognized companies in the world such as El Ranchito, Industrial Light & Magic, Double Negative or Weta Digital participating in films such as Mars, The Jungle Book, A Monster Comes to See Me, Pirates of the Caribbean: Salazar's Revenge, Wonder Woman O Star Wars: The Last Jedi.
Currently Pueyo is supervisor at Orca Studios and director at U-tad's Master in Digital Composition for VFX, which has held two editions so far. He has recently given a webinar at this university on composicin digital, the process with which different elements such as light or color are manipulated and combined or the integration of different images using digital techniques to create a single image according to the vision of the director of the audiovisual work and that they usually look for deliver a hyper-realistic result that fools the eye so that the brain forgets that it is seeing something unreal.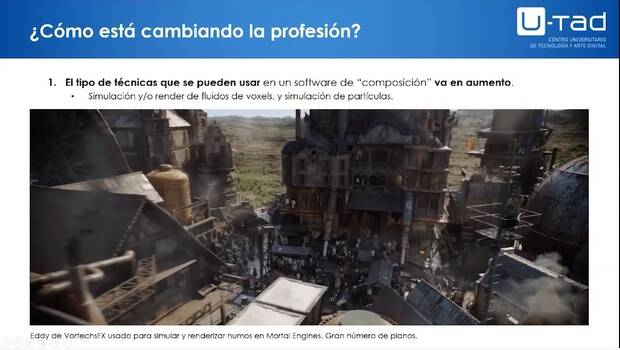 From 200 to 300 planes in 40 years
The retouching can range from changing the position of the characters that appear in the video to aging them, erasing them, extending the filming set, integrating 2D or 3D shots, and Pueyo talked about all of them although the talk focused more on the techniques that will be the future of the digital composition since "in recent years we have seen that the techniques of other sectors and new ones that are emerging are being integrated in an organic way in the compo," said Pueyo, "because they generate many options, save a lot of money, facilitate iterations and this is an incentive for everything to come together. "
I can affirm that VFX demand is "increasing exponentially for at least 15 years "and continues to grow as evidenced by the fact that top-grossing films like Avengers: Endgame, Avatar or even Titanic They are based largely on digital special effects or the one that 40 years ago VFX blockbusters such as "Star Wars" had an average of 200 or 300 special effects shots, in 2000 there were no more than 400 or 500 shots Y movies now have 2,000 or 3,000 visual effects shots And even medium films that previously didn't have VFX now have about 400 special effects shots. In addition, Pueyo argued, now VFX are not limited to cinema but there are also series of digital platforms that are based on them, such as The Umbrella Academy or in video games, in the trilers and video scenes. Also, he added, the profession is changing, which may now encompass more than before.
Improvements that digital composition is now undergoing
In the pipeline, the work process, the different departments that converge towards the composition where everyone goes flowing forward to get the end result,so that any change that occurs in the project involves repeating several steps, with the consequent expenditure of money and loss of time, "a change of rigging It means giving new times, redoing the animation, lighting, re-rendering and composing to deliver again. Anything that is not going back will save us frustration, time and headaches "he explained. In order not to back down, you have to make insurance decisions or make changes as late as possible in the process. "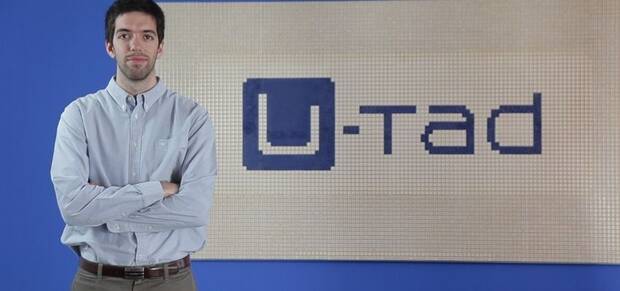 Among the factors contributing to the change in digital composition are rendering improvements and creating techniques that allow you to work directly in composition; Pueyo gave as an example the creation of smoke or drops falling from different points and that previously it was not possible to work in this part of the process or even render ray traces. It is also playing a relevant role in the evolution of this profession the assistance of artificial intelligence "that eliminates hours of work that can now be automated" thanks to learning models deep learning faster and faster than a job that took hours manually is now done instantly. Lastly, I mention the new LiDAR sensors that are already being incorporated into devices as common as the iPhone and that record the depth of the image.
The virtual production revolution
Pueyo currently works in virtual production; where until now there will be chromas to which later several digitally created elements will be incorporated, now there are giant led panels that act as the background of the shoot and in which an image is projected that is updated in real time with what should be in front of the camera, it is, Pueyo said, "as if you put on virtual reality glasses that as you move, the content moves, depending on the you move you can get into a 3D world and take finished images from the camera, with visual effects, which has many repercussions, benefits and new things that it allows ". It is an effect that has become known for its use in the series "The Mandalorian". With this method the LEDs on the panels illuminate the actors and it is not necessary to eliminate reflections or make corrections and post-production is eliminated in simple background integration sequences. With virtual production, additional information is obtained such as how the camera has moved, how the focus has been changed, the background a large amount of data that serves to automate the process.
For the virtual productionsaid Pueyo, digital composition skills are invaluable. The supervisor is seeing the final result on the screen and can make decisions winking for his good work, "as we have the tools to change the lights and others on the screens, it is like composing live, and the trained eye and composition skills become more important," said the director of the master, " and if you do it wrong, you go with the wrong shot. "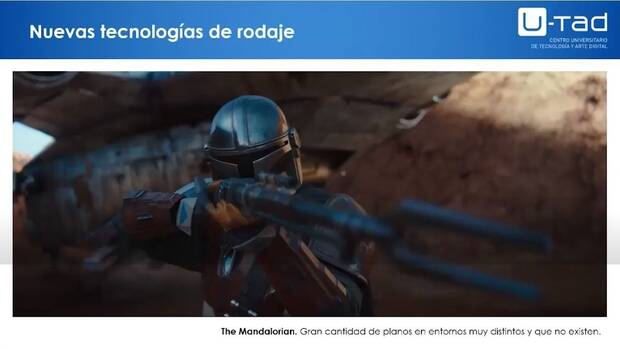 Over time microprocessors have many more transistors and are cheaper to operate, and the technology has also become more affordable, no longer need expensive machines and practically any computer will do to use free software such as Da Vinci, Blender or Unreal Engine and SSDs allow very fast data transfer for little money. This is promoting teleworking Thanks also to the work in the cloud and more professional technology can be had at home, a process accelerated by the covid-19, which means that the studios are relocating and have several locations around the world. Pueyo even pointed out that in the future it is possible to work in the cloud in a similar way to a Stadia "seeing on a mobile in real time what a machine that is in the cloud is calculating," he said.
A more global training prepared to evolve
All these factors allowed Pueyo to affirm that digital composition will soon entail spend fewer hours on techniques like chroma or rotoscopy "and the work will be more to guide little programs, artificial intelligence models that are trained, more to make decisions about the result and less to make manual changes. "It will also require having a more global training that includes other sections of the traditional pipeline such as lighting and ways of working "that come from videogames will be incorporated, of real time, real-time rendering, ray tracing"He said. It will also be necessary to establish certain standards that allow establishing similar work methodologies in all studies and working remotely.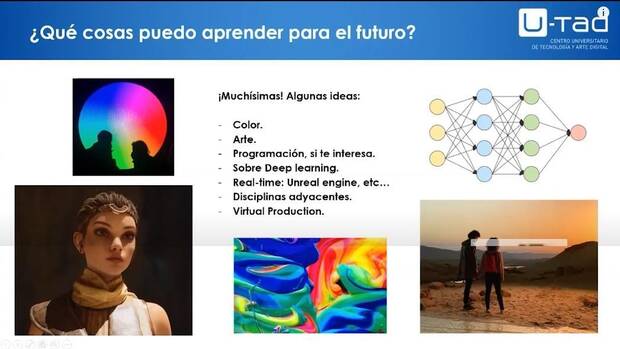 In 2018 U-tad realized the demand for professionals in the industry dedicated to digital composition and I planted a new, more specific master. Pueyo indicated that the one he had studied helped him "to discover my vocation, digital composition", but the new master's degree was aimed at specializing people who already had a more specific profile with the idea of ​​"going much further on the syllabus. " Y come out trained with a very high specialization and with a very strong technical base "and with solid foundations of what helps you to be a better digital composer, such as lightning, Shading, texturing, cinema, industry, matte painting…, see its application to the compo is going to form more powerful profiles, "he added, and without forgetting that you have to evolve and adapt to changes that are being produced, as well as that whoever wishes can later specialize in one of the more specific aspects of digital composition such as programming or lightning.
A professional Master in which no previous experience or knowledge is required
In October 2019 Pueyo returned to Spain to direct this master's degree in Digital Composition, for which no need to have any prior knowledge or experience Since the subjects start from scratch, Pueyo affirms that it matters more that there is a real interest in VFX and the student has certain aptitudes. This year there have been 12 students, 1 of them online, although all had to go to this format due to the pandemic.
The webinar on digital composition is uploaded on Adrin Pueyo's YouTube channel, where you can also see some curious videos made by him as a tribute to Mario and Luigi Bros.
U-tad's Master's program in Digital Composition for VFX includes learning about VFX industry and management, cinematography, digital composition, and auxiliary technology. Throughout the master, students are working on their projects and each week progress is seen. At the beginning these are corrections that Pueyo is indicating "unlinking the corrections of the classes, which become pure content and from February the plans they are making are supervised, in this way we can iterate and work from scratch in a similar way to working in production. Thanks to this they can have a reel personal ", explains the director of the master. At the end of the course, towards October, the students deliver the final projects and the reels They are presented to companies in the sector.