The cross play on PlayStation 4 was unthinkable until September 2018, when they are released with Fortnite Battle Royale. In the months leading up to that event, Sony publicly advocated that they did not activate the crossplay for the protection of PlayStation Network users and for monetary reasons, Between other reasons. Today we learned that Epic Games has to pay Sony Interactive Entertainment in certain cases for activating the cross game in said title.
Publishers have to pay Sony a royalty when PlayStation players contribute more than a certain percentage to general income of a game published on various platforms, such as Fortnite, Minecraft Y Rocket League. The information comes from a Sony Interactive Entertainment document, "cross-play policy, requirements and process", dated August 2019 and shared in the lawsuit between Epic Games and Apple.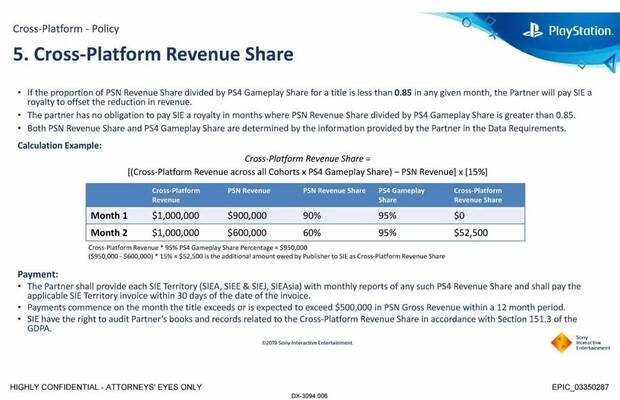 "In certain circumstances Epic has to pay additional income to Sony. If someone play mainly on PlayStation, but pay on iPhone, then this could activate compensation ", he explains about the agreement with the Japanese company Tim Sweeney, CEO, Epic Games, in statements at the trial collected by The Verge.
Early 2018 Epic Games asked Sony to rethink its position about cross-play, according to an email that Joe Kreimer, Vice President of Business Development at Epic, I sent the Japanese firm. "I can't think of a scenario where Epic doesn't get what it wants; that possibility disappeared when Fortnite became the biggest PlayStation game", the text reads.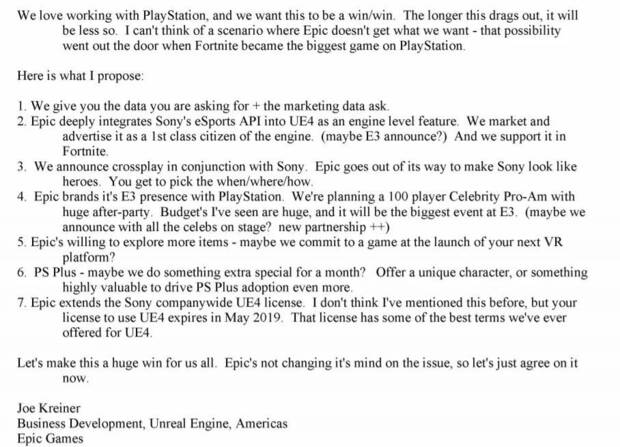 The offer, rejected by Sony (specifically, by the director of developer relations at the time, Gio Corsi), included everything from marketing data to PlayStation, integration of Sony's eSports API into Unreal Engine 4, andl announcement of the crossplay with Sony (to be seen as an initiative of this), the promotion of Fortnite at E3 with the PlayStation logo, the offer of exclusive items on PS Plus and the possibility of launching a Play exclusively on Sony's upcoming VR glasses.
Corsi responded to those approaches that "Crossplay is not a success, regardless of the size of the title". "As you know, many companies are exploring this idea and not a single one of them can explain How Cross-Console Play Improves PlayStation Business", adds the executive in those emails.
Fortnite generated $ 9 billion between 2018 and 2019
Numerous newsworthy details have emerged from the same trial, such as that Epic spent more than $ 11 million in free games from the Epic Games Store for the first nine months; So what Fortnite It has generated $ 9 billion worth of revenue between 2018 and 2019.