After the last events lived in Call of Duty: Warzone, Activision's Battle Royale already has a new facelift for its most iconic map; Verdansk. Yesterday the community of free to play players, both from Spain and from the rest of the world, was able to enjoy the second part of the nuclear event that had created so much expectation on the networks. This event was the definitive change for this game map that now sports a setting inspired by the cold war from the 80s. Everything to welcome the new Season 3 of the shooter.
This is Verdansk 84, the new map for Season 3
Season 3 is the beginning of a new era for Warzone, one that brings Verdansk back to 1984 with massive map changes.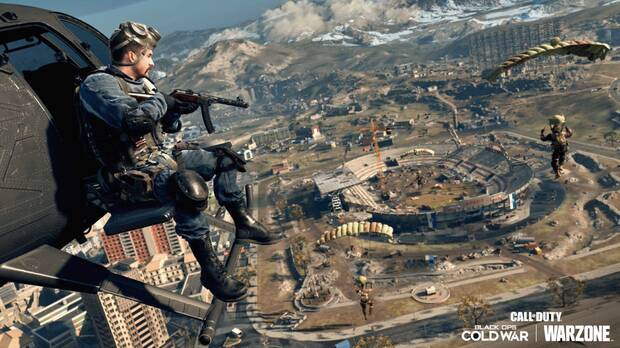 As explained by Activision on their website: "As the map that Warzone defined during its first year and month, Verdansk has now been updated to optimize the game and offer a wider variety of new combat experiences, all while stepping back in time to fully engage with the rich history of Black Ops Cold War ". And it is that now, finally, the fusion of both shooter it is total when sharing even setting.
Of course, the flashy new Verdansk is still a free map and the main map for Warzone Battle Royale games. Season 3 is in Activision's words the more ambitious content offering to date and Verdansk 84, which is how this new map has been baptized, is a great example of it. The map includes brand new locations and other reinvented, new game options and deep optimizations; now almost all buildings surfaces and objects have been touched to offer a more fluid game experience.
It is time to travel to the past.

Verdansk hasn't looked so good since spring 1984. Get ready and jump into Season 3 of #Warzone.

Now available. pic.twitter.com/nU5CUYUowb— Call of Duty Espaa (@CallofDutyES) April 22, 2021
The most recent events Around Warzone they have made us experience a whole roller coaster of sensations: from waves of Zombies that invaded Verdansk, an eventual nuclear detonation and a final transformation that has led Verdansk to this new change:
For weeks players have fought against the Zombies throughout Warzone, as they follow their progress through the Containment Protocols and Corruption Zones.
When the horde of Zombies reached its tipping point, millions of players experienced an in-game event that triggered a nuclear explosion that decimated the entire map of Warzone, while Verdansk went dark.
Afterwards, the Warzone players were transported to Renaissance Island, where a series of mysterious in-game clues and hidden messages helped players unravel the remaining secrets of the event and understand what really transpired in Warzone, ultimately transporting everyone to Verdansk en el ao 1984, and the long-awaited release of Season Three.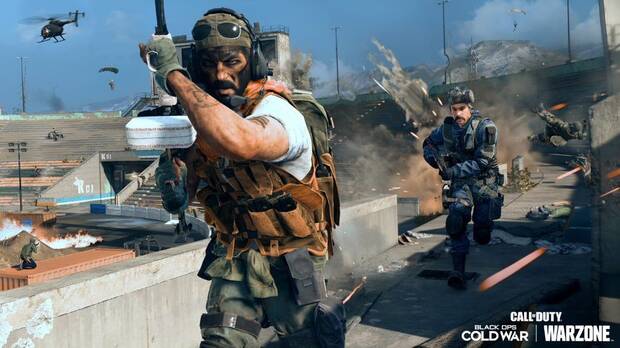 New locations and changes
Verdansk 84 has more than 400 points of interest that players can discover. The Dam, for example, it is one of the areas that has undergone the greatest changes. In this place you can now find the mapa Summit from the first installment of Black Ops. Standoff, another classic map, can be found partially as a new gulag from the 1980s. Airport has been expanded and is no longer destroyed and the Downtown smoke tower He now has scaffolding and a crane to give the more strategic players a head start.
More news for Season 3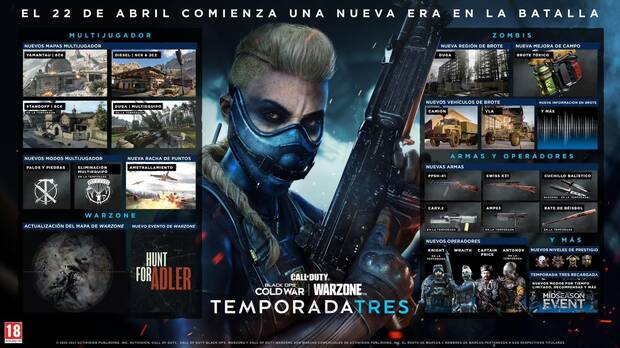 These are just some of the details on the new Verdansk map. In the Activision's official podium blog check many more. Updating the Season 3 is now available, you can read this other news to know the Warzone patch notes, the contents of the battle pass, new operators and weapons and much more. You can also look at this other news the roadmap of Season 3 planned for Black Ops Cold War. It is time to travel to the past!
Call of Duty: Warzone is a Battle Royale, First Person Shooter and Multiplayer Shooter by Activision. You can read our review to learn more about the game, and if you are looking help to win your games, do not hesitate to visit our complete guide of tips and tricks.