The players of Call of Duty: Warzone Y Call of Duty: Black Ops Cold War they looked forward to the new update reloaded of the current Season 3 and this is already available from today, May 20th of 2021, to add to the title a lot of news and new features. One of the main protagonists of this patch is the Action Heroes of the 80s event, which includes the two new operators Rambo and John McClane, which we have already revealed in another news how they can be achieved.
Next, in this news, we focus on summarize the details shared on the official Activision blog about the changes included in the Temporada 3 Reloaded, so you know what's new in both titles.
Download size for Warzone and Black Ops Cold War – Season 3 Reloaded
The Season 3 Reloaded update has a download size approximately 7.1 – 13.1 GB for those who have the full version of Black Ops Cold War, and 14.6 – 18.1 GB for those with free Warzone and the latest updates to either or both games. Specifically, these are the sizes of the update download for each of the two titles and on their different platforms:
Tamao de actualizacin de Black Ops Cold War – Temporada 3 Reloaded
PlayStation 5: 10.3 GB
PlayStation 4: 4.7 GB
Xbox One Series X / Xbox One Series S: 13.1 GB
Xbox One: 8.3 GB
PC: 10.3 GB
Warzone Upgrade Size – Season 3 Reloaded
PlayStation 5: 14.6 GB
PlayStation 4: 14.6 GB
Xbox One Series X / Xbox One Series S: 15.2 GB
Xbox One: 15.2 GB
PC: 14.9 GB (solo Warzone) / 18.1 GB (Warzone y Modern Warfare)
We put the heroes. You put the action.

Get ready for the '80s Action Heroes Season 3 reloaded event on May 20 at #BlackOpsColdWar Y #Warzone. pic.twitter.com/jEyUivR1fF— Call of Duty Espaa (@CallofDutyES) May 18, 2021
All the news in COD Warzone from Season 3 Reloaded
For starters, the new Season 3 Reloaded update adds some iconic places in Warzone For a limited time, related to the Action Heroes of the 80s event, they are as follows:
Nakatomi Plaza (at launch): The Nakatomi Corporation headquarters have been relocated from the Los Angeles sun to downtown Verdansk for a limited time. This is the tallest single structure seen in Warzone, and includes five floors of a space that will be familiar to those who love and know the original Die Hard.
Prison camps (at launch): Around Verdansk, numerous camps have been turned into prison camps in honor of Rambo Cornered. Part II.
CIA post (at launch): One of the aircraft hangars in the northwest sector of Verdansk has been turned into a makeshift CIA outpost, as its agents need a base of operations to begin tracking down the elusive Rambo.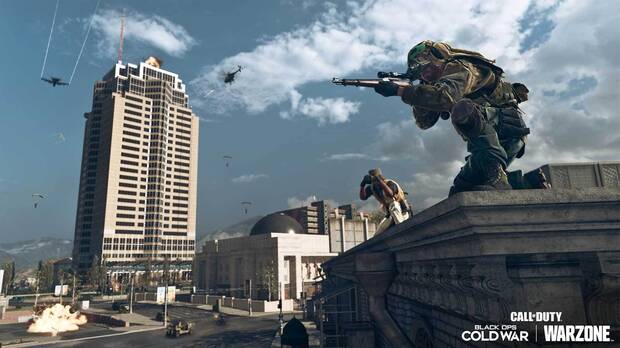 In addition there is also a new limited time mode, Powerful. This game mode puts more than 100 operators in squads of certain sizes in a battle for the supremacy of prominence. The starting circle is smaller than in a traditional Verdansk Battle Royale. The closing of the circle will have five phases, and no gulag to escape death.
The combat arc is the new kill streak It adds an explosive touch to any weaponry in Verdansk or Rebirth Island and is effective against both infantry and vehicles. Nor should we forget that the ballistic knife has come straight from Black Ops to Warzone.
New content from Season 3 Reloaded in COD Black Ops Cold War
COD Black Ops Cold War tambin receive many news in Season 3 Reloaded. Among them we highlight the following:
Two new multiplayer maps: Standoff (6v6, on the pitch) and Duga (multi-team, on the pitch).
Glass hot spot: new game mode at launch.
Rambo Gun Set: a frenzied game mode that will be available in the second week.
Multi-team elimination: Intense new top-of-the-line experience on the largest maps, available at launch.
Action Movie Inspired Medals: Time-limited medals and some guides to the Die Hard and Rambo franchises.
At the same time, Zombies mode It also adds new Outbreak content, a new limited-time mode, and much more. Later in Season 3 Reloaded, the secondary weapon category Receive two additional weapons: an automatic submachine gun and a reliable old melee weapon. Likewise, in this launch week the Bate de baseball and soon the AMP63 pistol.
Call of Duty: Warzone is a Battle Royale, First Person Shooter and Multiplayer Shooter by Activision. You can read our review to learn more about the game, and if you are looking help to win your games, do not hesitate to visit our complete guide of tips and tricks.