Treyarch, the multiplayer developers of Call of Duty: Black Ops Cold War, they have offered a video preview of the map Miami Strike through his Twitter account. This scenario will reach the next week as a free update along with two other maps during the mid-season premiere Season 2.
Suns up, guns up. Miami Strike comes to 6v6 next week with a new close-quarters layout and 24/7 playlist. pic.twitter.com/umoaxxfYPq— Treyarch Studios (@Treyarch) March 24, 2021
The study explains in the tweet that the map is designed for games of 6 vs 6 players promoting the close clashes. The original Miami map, night rather than daytime, was packed with spaces where skilled snipers could take a good handful of casualties from a distance.
The map will be available in the playlist 24/7. The setting, set on January 17, 1984, is defined as follows: "With the sun shining on the colorful murals of Miami's South Beach neighborhood, Miami Strike focus the action on a smaller daytime version of the original map. "In the video captions you can read:" Bullets and blood fly in South Beach, while Perseus provokes a butcher to free an ally from a prison transport".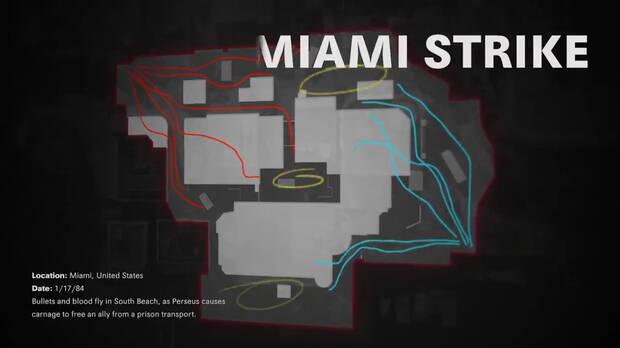 Golova and Mansion will also arrive
In addition to Miami Strike, two more maps will arrive next week. On the one hand Golova, located in a Russian village from the Ural plains and suitable for multi-team modes. On the other hand, Mansion, which will take us to Havana, in Cuba, for 2v2 and 3v3 modes: Shootout and Face to face.
Starting today, PlayStation 4 and PlayStation 5 players from Call of Duty: Black Ops Cold War Y Call of Duty: Warzone they can get the double experience points until March 29. PC, Xbox One and Xbox Series X / S users will access the event starting this Friday, March 26.