The Spanish studio Ceiling Games has presented the first trailer of Captains of the Wacky Waters, a roguelike of boats with action with a lot of humor that arrive, at least in a confirmed way, on Steam in the first half of 2022. The team is made up of three people from Madrid and surroundings who began development after completing university with the intention of dedicating themselves professionally to the video game industry independently. You already have your page available on Steam.
"You must combine the strength of your rowers and that of the wind to navigate the procedurally generated zones, improving your boat and finding powerful configurations that will help you fight," says the study on a game with a lot of replayability where each game is different. On his background, Ceiling Games says that before "helping the ghosts get to Paradise was an easy task, but someone ended the peace in Wacky Waters and now all captains have to learn to defend themselves and their crew."
As we progress and defeat captains these characters will be playable, and Each ship has different characteristics and a special ability. The saved ghosts will join our crew, where there are six roles to make the journey more comfortable. At our disposal we will have a great variety of weapons, such as firearms, cannons and a giant hammer. The customization also encompasses gadgets and other elements that enhance and decorate the ship, "from a medieval spear to giant undercover goggles" for the ship.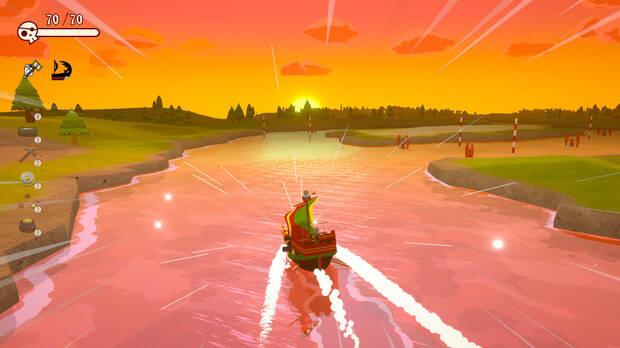 Some cel shading graphics
Each zone will have its own aesthetics, which, as can be seen in the video and images, some very colorful graphics with "good vibes and with a lot of craziness and oddities" where all the characters wear "their own kind of hat".