Raven Software, the Activision Blizzard team responsible for Call of Duty: Warzone, has announced the expulsion of more than 13,000 cheaters of battle royale in the last hours, whose account has been deleted. The action comes days before an in-game event that grants the double the experience.
The last major wave of expulsions in 2021 took place in February, when Raven Software deleted more than 60,000 accounts. The study has banned more than 110,000 players so far this year. In the Twitter message where they announce the new deleted accounts, they add: "Keep them coming!", making it clear that they will continue the fight against cheaters.
Another #Warzone banwave today.

Over 13,000 accounts banned.🚫

Keeping them coming! https://t.co/whFNbYHlWb— Raven Software (@RavenSoftware) March 23, 2021
However, as they point out from GameRant, the situation with the cheaters in Call of Duty: Warzone the community is angry, who ask that the game integrate software to avoid cheating as other games of the genre do, from Valuing with Vanguard a Counter-Strike: Global Offensive with Valve tools.
Some players claim on Reddit and other networks that during Season 2 of Warzone the problem has gone to more. As this is a free game, nothing prevents a expelled user creates another account with a different email address to continue playing using the cheat software they paid for.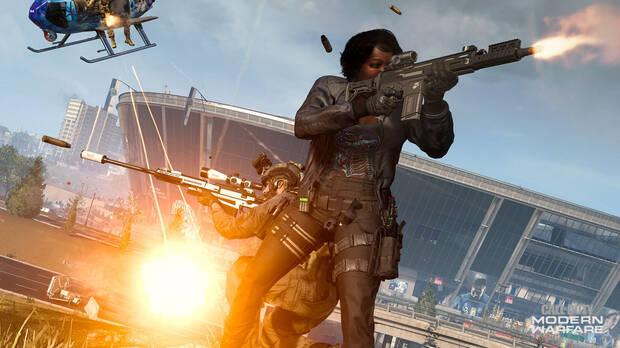 Double experience event from March 26 to 29
The player ban comes a couple of days before a double experience event that will award the double points to level up the player account, weapons and battle pass, both in Warzone like in Call of Duty: Black Ops Cold War. Last from March 26-29, although the players of PlayStation will have the event from March 25.
Call of Duty: Warzone is available in Spain and the rest of the world since March 10 of last year for PC, PS4 y Xbox One. In November 2020 it was updated with improvements for the new generation of consoles: PlayStation 5, Xbox Series X y Xbox Series S.