Bloodborne 2 is, something like, like that holy grail of the video game industry that we want to believe exists … but of which we have not the remotest certainty that it lives among us. While rumors maintain that it is a project that will not happen "in the short term", the truth is that FromSoftware has not made any announcement in this regard. Given this situation, the conceptual artist of PlayGround Games, Thomas Chamberlain, you wanted to imagine how will this title be. The result is spectacular: it seems a twisted and macabre version of The 1000 and one nights, betting on a very desert, nomadic and elegant theme.
Thomas Chamberlain He has shared his work on his personal ArtStation profile, where we have been able to discover that he has not only imagined what the atmosphere of Bloodborne 2 in his head – he has also sketched out the characters' outfits, new weapons like the tenacious Tendon Saber, story content, and of course, his own version of the Hunter's Dream. This project is part of his participation in the Bloodborne art contest of Vaatividya, a youtuber specialized in information about Dark Souls and FromSoftware projects.
"This is a fan project, I have no association with FromSoftware"Chamberlain clarifies. "My presentation is a collection of images that represent what a player actually sees when they play, action and cutscenes in real time. I wanted the audience to be able to speculate and reconstruct the story, which is not presented to us explicitly … exactly how we love it to happen in the Bloodborne real".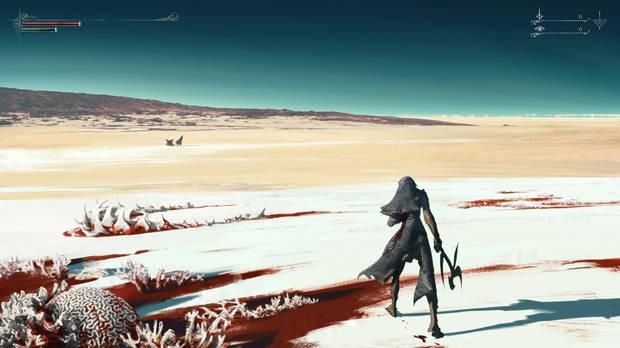 A twisted and ghoulish version of 1000 and One Nights
In this sense, once we access your ArtStation page, we have to see the images just in the order in which Chamberlain has published them. "My presentation should be viewed and read in that order"he explains." Understanding the events of the original game is vital if you want to have an idea of ​​what is really happening here"At certain times, we can see the Hunter wandering around a city of Arab court; while also remaining at the mercy of a vast bloody desert.
Honestly, I have no idea what's going on in this little story Chamberlain has imagined: but I would love to see this project come true in the form of a video game. Unfortunately it seems that Bloodborne 2 is still far from even being a reality. FromSoftware is working on Elden Ring, a game that the last we know is that it will include an online multiplayer and character editor, according to rumors. In addition, they point out that the studio would be working on an exclusive sci-fi title for Xbox Series. On the other hand, PlayGround Games is in charge of shaping the new Fable already the saga Forza Horizon.