2K Games y Gearbox Software, responsible for the saga Borderlands, have anticipated that next June 10 will announce their new video game. Specifically, they will do it at Kickoff Live !, the inaugural gala of the Summer Game Fest 2021 It will start at 8:00 p.m. (Spanish peninsular time) both on the official YouTube channel and on the Twitch profile of the event.
Although the companies have not revealed what game it is, they have hinted at what type of announcement we can expect: to begin with, they have opened a new website entitled "Be Chaotic Great", a slogan that has also been used on social networks by both 2K Games and Gearbox Software as well as Geoff Keighley, main organizer of the Summer Game Fest 2021.
Prepare for the reveal of a new adventure from @GearboxOfficial and @2K during #SummerGameFest Kickoff Live on June 10! 🔥 https://t.co/WMXopnCE4j pic.twitter.com/zb52zmZhKK— Geoff Keighley (@geoffkeighley) June 7, 2021
No further information about this title is given on the new project page: "A new Gearbox and 2K adventure awaits you!", can be read on the web, where in addition to that phrase we only find a countdown and a button to sign up for the companies' newsletter. If we have to highlight something, it is the description of this game as "a new adventure"a term Keighley also uses in its tweet to refer to this project.
Possible spin-off from Borderlands starring Tiny Tina?
Precisely In the past week Possible announcements that 2K Games could be saving for E3 2021 were leaked, although it seems that one of them will be unveiled before the ESA fair: Gearbox Software said that could be working on a spin-off from Borderlands, a new installment separate from the main series and that will star Tiny Tina (or Tina Chiquitina, as we know her in Spain), one of the characters in the saga. In fact, the title of this game would be 'Tiny Tina's Wonderlands' or simply 'Wonderlands', brands that Gearbox Entertainment has registered in Europe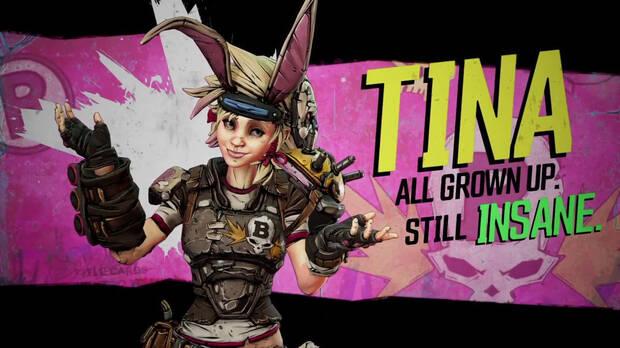 For now, those leaks They are only rumors, although the artistic style of the teaser 'Be Chaotic Great' may match Tiny Tina's in Borderlands. In that information, it was also revealed the new Firaxis game, which will be a kind of XCOM with Marvel characters, and an open-world action game defined as "Cthulhu meets Saints Row". At the moment, as there are no official confirmations, these are all just leaks that have to be understood as rumors.