Today EA and DICE have published an extensive blog in which they provide us with new details about Battlefield 2042, your next shooter centered on multiplayer that lovers of shooting games wait like water in May to face on giant maps against other players shooting with our rifle, controlling a tank or piloting a plane to sow chaos between enemy lines.
There are many details that are discussed on the blog, explaining the reason for delaying their first test and delving into some topics that the community has asked insistently about, such as the polmicos bots or the differences that we could find between the experiences 128 player for current generation or 64 player limited to PS4 and Xbox One.
Starting with the controversial bots o AI Soldiers as DICE prefers to call them, the creator of the new Battlefield clarifies that these troops controlled by artificial intelligence will arrive to complete the number of players from the servers and that in most cases we will never see more bots than players unless we enter a practically empty game.
The main rule when it comes to managing bots to be but
always preference to real players and, in the event that someone leaves a game in progress, substitute them temporarily until a new "real" soldier arrives on duty. For example, if there is a server with 120 players out of 128 possible, the AI ​​soldiers will fill those 8 spaces until they are filled with other players. If any of the participants leaves, an AI Soldier will replace them until another player enters the game.
Regarding the behavior of the bots, these they will play a game in a totally normal way as if they were another player, being able to decide whether to face us in direct combat, flank us or revive a fallen comrade. What they will not be able to do is use the special technologies of the new specialists or use the aerial suits.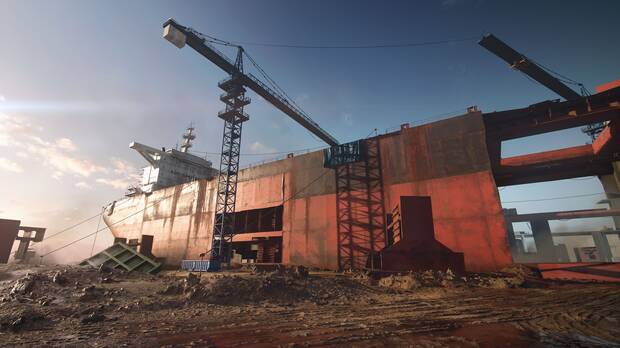 Battlefield 2042 adjust the playing area of ​​your maps based on whether there are 64 or 128 players
Another point that DICE has wanted to clarify is regarding the optimizing the gaming experience between PC and current generation consoles (in which the games will have 128 players) with those of PS4 and Xbox One that enjoy confrontations of up to 64 players. The company emphasizes that the experience will broadly be the same and that in all versions there will be tornadoes, dynamic weather and all the functions of Battlefield 2042.
In fact, the main difference between the two generations of consoles (beyond the graphical changes) it will be that The playable area of ​​the maps will be adjusted on PS4 and Xbox One to ensure that players have a smooth experience, that is, they do not find themselves in a map that is too empty due to having fewer players on the server
In addition to what we have told you in this news in this blog about Battlefield 2042 There are also some extra details of the specialists, their equipment or other characteristics that you can read in full by clicking here.