While the Spanish players and the rest of the world are waiting for the launch of Gotham Knights, there is a user who has wanted to pay his special tribute to the saga of the Dark Knight. This is the technical and visual effects artist Osmany Gomez, who has shared some screenshots and a small gameplay of his impressive project: Batman 1989. If you are a fan of the Gotham Bat, and specifically of the Tim Burton movie from the same year, you'd better prepare the popcorn and get comfortable because this job is going to make you fall on your back.
Batman 1989: Tim Burton's classic in the video game world
The setting, that dark atmosphere that surrounds the city of Gotham; the design of the characters and the careful technical section make Batman 1989 be one of the best fan creations we've seen to date. The title is based on the film of the same year, which featured Michael Keaton in the role of the superhero; with Jack Nicholson playing the villain Joker. In fact, both actors have served to characterize these two characters in Osmany Gomez's game.
Considered a cult movie, the film has been adapted to the world of video games in a spectacular way. Osmany Gomez used Unreal Engine to create this project, and allows us to imagine in detail what this title would be like to come true. Unfortunately, it seems that Gomez you do not plan to publish this title: for copyright reasons and because you seem to want to use it only for fatten up your portfolio.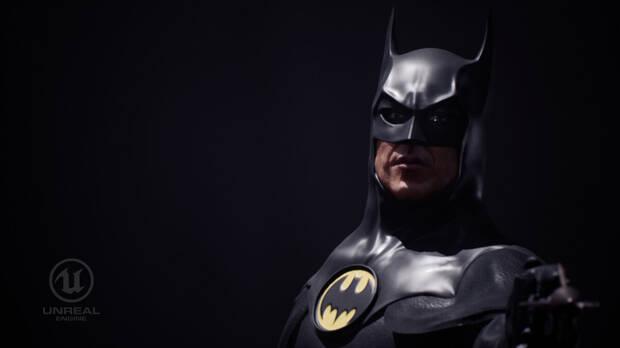 Tim Burton's classic adapted to the world of video games by a fan
While players will not be able to get their hands on Batman 1989In this article you can find a whole set of screenshots and a video that serves as a tutorial for the game. Batman model looks amazing, and his cape has physics so that it moves to the character's beat. The lights, shadows and that aura of mystery that surrounds Gotham has been captured to perfection. Anyway. We can only regret that this title will not see the light.
Upcoming DC video games
In the meantime, Warner Bros. Montreal works on the development of the aforementioned Gotham Knights: an action game and beatem up located in the Batman universe. Players will pick up the mantle of Bruce Wayne as one of his many allies: Batgirl, Robin, Red Hood y Nightwing will be the characters available in this proposal. It is expected that in the DC FanDome of this next month of October will reveal more information about this game, as well as Suicide Squad: Kill the Justice League.