Since Baldur's Gate 3 will launch in early access in October last year for PC and Google Stadia has already made it clear that it will be a Early Access long. Last month, Larian Studios already made it clear that the final version will not arrive in 2021. But yesterday, Swen Vincke, CEO of the study, said in a live broadcast dedicated to the news to come that "hopefully [saldr] sometime in [20]22", according to statements collected by PC Gamer. Therefore, development may extend beyond next year.
Beyond that, Vincke went into the details of the news to come in the Patch 5, dated to July 13 both on PC (Windows and Mac) and on Stadia. While this update is focused on changes and small additions, Larian's boss has said that the Patch 6 in which they are already working will be released "faster than you think" and what to introduce "new content".
Update 5 arrives on July 13 with several new features
One of the main changes has to do with how the data taken. The effect modifiers have on rolls after being cast will now be displayed, and once the result is displayed, the player is asked if you want to cast some spell to vary the numbers or even ask the companions to cast their own magic (in the case that they are other players in cooperative mode, they can be denied).
Regarding the camp, now we will have to spend resources to mount it, although they have added various scenarios rather than reflect the environment in which the group finds itself. New movie scenes that can occur while in camp have also been added. On the other hand, they have added various (up to 800) phrases to NPCs that are reproduced when performing different actions: they will say one or the other depending on the moment of the plot and the development of their story arc.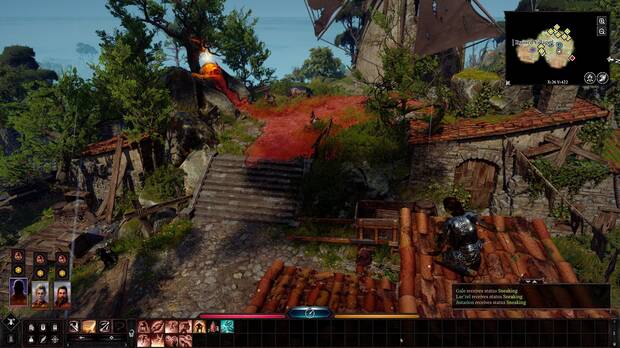 Regarding changes to the game systems: it has been separate the action of jumping from that of retreating combat, an option has been added to cancel spells that require concentration, and an option to perform non-lethal attacks to stun enemies (can be stolen in that state), among other minor changes to certain spells, artificial intelligence, and more.
In addition, minimisations linked to the context of each character (for example, acting in a certain way like Noble or Urchin in specific situations). When complying with them, inspiration points that can be used to reroll the dice. Points can be stored, but having more than four turns into 25 experience points.