Balan Wonderworld is that long-awaited platform game that comes from the hand of the creators of Sonic the Hedgehog, Yuji Naka and Naoto Ohshima, and that it has not shone as expected for the specialized press. In fact, in our analysis we have scored it with a note of 5.5 due to "an irregular result that promises more than it delivers." Given this panorama, it is at least striking than in the Metacritic portal 10/10 reviews have started to accumulate from users. Apparently, this game is the panacea for platformer titles. Apparently.
Balan Wonderworld and its fervent fans
If we take a look at the page of Balan Wonderworld In Metacritic, in a single pass a detail that catches our attention will jump to our faces: by the critic has 3 negative scores, while it has also suspended in 44 reviews by users. However, despite all this, it has 141 positive analyzes of the game by the players.
The book of tastes is blank and we might think that there are people in the world who have found it a good game Balan Wonderworld. After all it is a colorful platformer title that perfectly may have your niche of fans. The problem is that a large number of these positive reviews give the title a 10/10 score. And given the reception that the game of Square Enix y ARZEST Corp. in the media, the truth is that it is the least suspicious.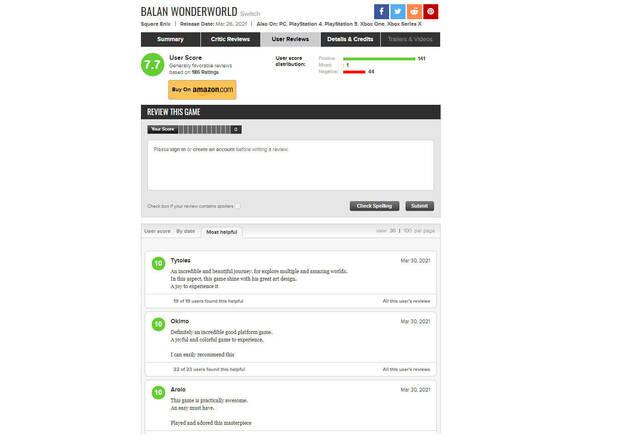 Are they bots or just users who like to pick complicated names?
As they point out from Nintendo Life, the names of the supposed users who have written these reviews make us raise our eyebrows with skepticism at least (Beryph, Uqln, Ukaty or Whastym are some of them). Not to mention that "many of these comments are written in similar English, with repeated phrases in some of them and, strangely, all negative criticisms are being rejected ", they maintain from the middle. Intriguing, to say the least.
O well Balan Wonderworld it has been the meeting point for users who like it adopt as username the onomatopoeia of a sneeze or indeed, my dear Watson, here is bot locked up. In fact, it even seems like a joke: let's take a look at the user "NotYujiNaka" (subtle) writing that Balan Wonderworld is the best game in the world followed by Shadow the Hedgehog? Probably in a few days someone on Reddit or 4Chan will say that all this has been a prank. That, at least, is our hope.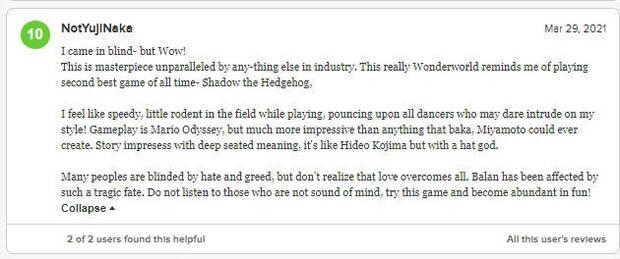 The best game in the world is Balan Wonderworld, and there is no discussion
Of course, we have no way of knowing whether or not these users are bots. But, if so, it would be curious to ask who paid for something like that if it was really worth it for them that the game Balan Wonderworld be related to this type of malpractice, even remotely. For now, all we can do is wait for some light to be shed on this strange question.