Apex Legends takes place in the same universe as Titanfall, the saga with which Respawn Entertainment debuted, and many players wonder when we will see a Titanfall 3 o si Apex Legends allowing control of titans, large robots or mechs, something the studio experimented with during development, but were eventually discarded. Now him dataminer Biast12, who in the past gave clues to the legend Horizon, has shown a video with gameplay of a character that is about to be announced, Blisk, with a passive ability that allows you to summon a Titan to wreak havoc on the battlefield. It should be emphasized that it will work in a similar way to BOB in Overwatch, clearing the area of ​​enemies and then disappear, but the player will not be able to enter it – unlike what happens in Titanfall-.
Because people asked for a better quality version:https://t.co/OxWI1sV8er— Tobias (Biast12) | Aqualix (@Biast12Personal) March 24, 2021
Blisk also has another ability drawn from Titanfall: run up the walls. Kuben Blisk is a mercenary of the saga and leader of Apex Predators; had already appeared mentioned in the background of Apex Legends, although so far it was not playable.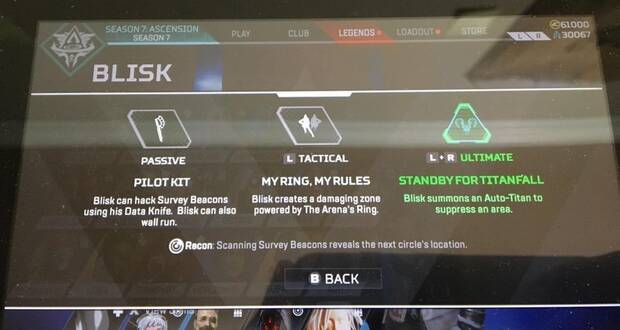 PC Gamer however remembers that on April 1 –April Fools' Day For Anglo-Saxons – it's close, and Respawn tends to take today's pranks very seriously, so the leak may be about some kind of April Fool or a character that's only available for a very limited time. Most likely, if real, Blisk and his Auto-Titan are available in season 9, which still has no date.
Apex Legends lleg a Nintendo Switch este mes
The battle royale free from Respawn and Electronic Arts is one of the most popular games of the year and recently added another version to those of PC, PS4 and Xbox One: Nintendo Switch. Although the graphics have suffered some cuts, includes cross-play and all content from other platforms.