AMD held a conference during the Computex 2021 in which he has reviewed some of its technological innovations both for users in general and for players in particular, talking to us and giving us the date of AMD FidelityFX Super Resolution O AMD FSR, the technology that comes in response to NVIDIA's DLSS.
It is a technology of space scaled open source to come to replace some of the old Radeon Boost technologies for improve rescaling and texture smoothing Y achieve a noticeable increase in performance in video games especially targeting those titles that use ray tracing in real time or 4K resolutions.
To give us an example of the benefits of this technology, AMD itself has offered a test tcnico in which we see move GodFall with a computer equipped with a AMD Radeon RX 6800 XT. The game to 4K, with graphical settings in "pico" Y Ray Tracing activated works at 49 fps while if in addition to all this we add the "magic" of the FSR in his way "Ultra Quality" we see how a rate of 78 images per second, 59% more than without this technology.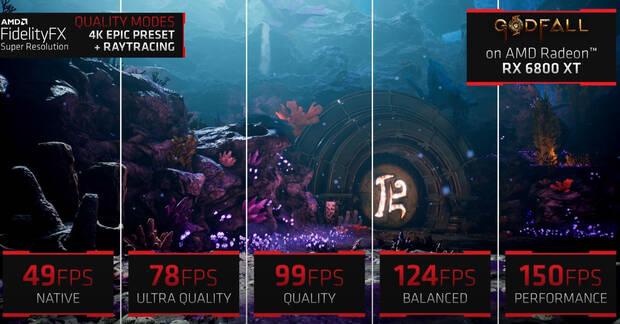 In addition, FSR will have four different modes being able to choose between Ultra Quality, Quality, Balanced and Performance. Using the same performance test above, the frames per second achieved in Godfall they have been 78, 99, 124 and 150 fps respectively.
Supports a large number of AMD graphics … and also NVIDIA GPUs
AMD has also confirmed during the final presentation of this technology the large number of graphics of the brand with which to be compatible counting on several generations of its GPUs with the families RX 6000, RX 5000, RX 500 y RX Vega Series the how all AMD Ryzen processors with Radeon graphics integrated. Precisely among the latter would be included the PS5 and XSX SoCs that, in theory, will also receive this technology but since they are not mentioned during the conference we have decided to ask AMD who has replied thatunfortunately we cannot offer you that information to this day", inviting us to wait for the future to hear about AMD FSR on consoles.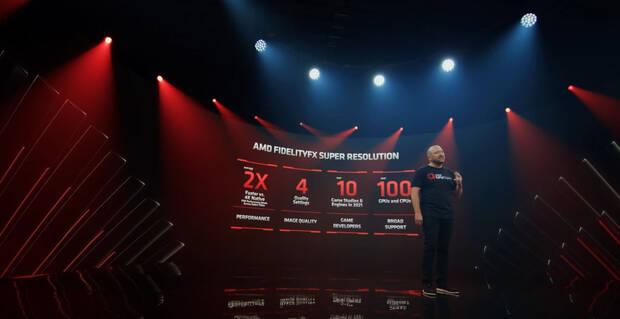 Also, one of the surprises that AMD has presented is that FSR will also be compatible with NVIDIA graphics cards from the GeForce GTX 10 Series until all new GeForce RTX Series 20 and 30 that have been released over the last few years. Finally the brand led by Lisa Su has also announced that 10 studies games are preparing to make their titles compatible with AMD FSR (without giving a list of compatible titles yet), with a good handful of engines implementing it between this year and next.
AMD FidelityFX Super Resolution will be officially released on June 22nd, date on which the first games compatible with this technology will be available.