Publisher Focus Home Interactive and developer Cold Iron Studios have announced that Aliens: Fireteam Elite, known until now as Aliens: Fireteam, will launch on Tuesday August 24th on PS5, Xbox Series X / S, PS4, Xbox One, and PC via Steam. Its official price in Spain will be 39,99 euros for its standard edition, although a Deluxe Edition with various digital extras and a price of 69.99 euros will also go on sale. Both editions can be reserved now with gift gifts.
Anyone who book now Aliens: Fireteam EliteRegardless of the edition you choose, you will receive the pack Hardened Marine, a static content DLC that includes the Bandana Head accessory, the Digital Red Camo weapon skin, three weapon stickers and the emote Chestburster.
In addition, those who acquire the Deluxe Edition of Aliens: Fireteam Elite will get the Endeavor Pass, which contains four additional packages of cosmetic content that will be published after the official launch of the video game, and the Endeavor Veteran Pack, which includes the following content:
Heirloom Standoff Shotgun
5 Classic Armor Kit Skins
5 Classic Elite Armor Kit Skins
Headset Helmet Head Accessory
Ballistic Helmet Head Accessory
Vintage Sulaco Cap Head Accessory
Chrome Plated Weapon Color
Digital Desert Camo Weapon Color
Digital Urban Camo Weapon Color
Digital Navy Camo Weapon Color
Caution Stripe Weapon Decal
Salute – Sloppy Emote
Look Into My Eye Emote
9 Random Challenge Cards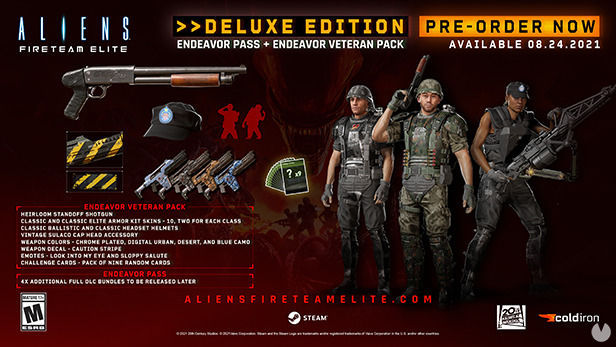 Cooperative action against more than 20 types of enemies
Aliens: Fireteam Elite it's a third person shooter game that puts the focus on survival in cooperative. Forming a team of marines, players will have to survive waves made up of more than 20 types of enemies, including 11 xenomorphs of different types, from facehugs to praetorians. Its story takes place 23 years after the original trilogy of Alien and it takes us back to the UAS Endeavor to challenge us to survive in four different campaigns in which we can choose between several character classes (gunner, demolition, technician, medic and recon), more than 30 weapons and 70 game modifiers.