The Superliga, the project of a European league led by Florentino Prez with Real Madrid and other Spanish teams -FC Barcelona, ​​Atltico de Madrid-, Italian and British, has come to an end, at least for the moment, after the withdrawal of almost all its founders. This project was broken mainly by pressure from fans, opposition from smaller clubs and especially by threats from UEFA, who recalled that participants in the Super League would be prohibited from participating in competitions at national, European or world level. If it occurs, it will completely change the current football competition and have an effect on the world of video games., especially a licensed game like FIFA.
What would the results of the main competitions be without the twelve Super League teams? A user on Reddit has simulated the results with Football Manager 2021 eliminating clubs from their respective leagues, that is, Real Madrid, Barcelona and Atletico Madrid outside of LaLiga, Manchester United, Manchester City, Liverpool, Chelsea, Arsenal and Spurs outside of the Premier League, and Juventus, AC Milan and Inter Milan outside of Serie A.
Thanks to Football Manager 2021 allows you to automatically simulate the results of different seasons, FlyingPingoo imagine cules seran the winners of the next 25 years. For this he sent the six British clubs – it is the competition in which he focused – to the semi-professional leagues and financially ruined the teams so that they had no opportunity to recover; Its players will be able to sign for other clubs, so that the stars of the Superliga teams will have to look for new clubs, such as Lionel Messi of Barcelona who will pass through Chinese Shandong and PSG. After giving up his life as a gamer, Messi will be coach of Cdiz and Huesca, with a floor of 6000 euros a week. Cristiano Ronaldo will do a little better, because after playing for Chinese Shenzhen and Wolverhampton he will enter lead the Roma youth soccer project, with a salary of 17,000 euros a week.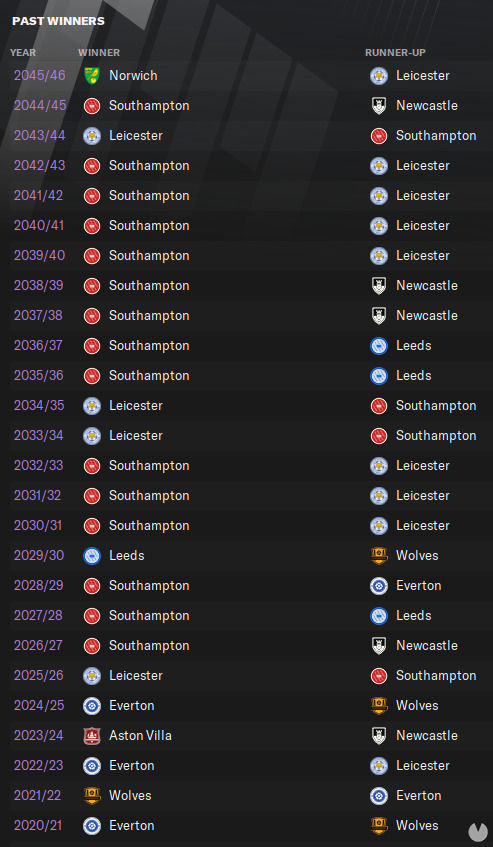 The Real Sociedad, champion of the Champions in 2041
The result in the Premier? Everton will win this season, and twice more in the next 25 years, though Southampton would become the club that benefited the most. Unfortunately, the results for LaLiga have not been published, although they are the Champions League winners of the next few decades: Borussia Dortmund, PSG and Bayern they would be the new dominators of the competition. Only a Spanish club will win the Champions League in this future that you imagine Football Manager 2021: the Royal Society, within 20 to.